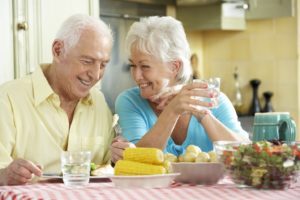 Summertime is finally in full swing, and there's no better way to spend these relaxing evenings than by cooking out and enjoying some of your favorite summer foods. But if you have dental implants, you might be wondering how they'll affect your summertime diet. However, you have nothing to worry about; provided that you're taking great care of your implants, they will allow you to eat to your heart's content. Here's more about dental implants, the effect they have on your diet, and some tips for making them last.
How Do Dental Implants Affect My Diet?
When it comes to replacing missing teeth, dental implants have become one of the go-to options. While options like dentures rely on adhesives and suction to stay in place, dental implants are surgically inserted into your jaw. Over time, the biocompatible titanium posts fuse with your jawbone, meaning that your new pearly whites are staying put.
Since dental implants are incredibly stable once the implant sites have fully healed, your chewing power is restored to a normal, healthy level. This also means that you don't have to worry about your new teeth slipping and sliding around your mouth whenever you bite or chew. To put it simply, dental implants replace your missing teeth and restore your ability to eat normally once more.
This means that all of your favorite summertime foods are still on the menu, including:
Steaks, kabobs, and other grilled meats (although hot dogs should still be avoided, as their high levels of saturated fat can cause gum inflammation).
Fresh fruits like apples, pears, peaches, watermelon, berries, and more.
Crisp vegetables like cucumbers, carrots, summer squash, and zucchini.
Corn on the cob (just be careful of pieces becoming stuck between your teeth).
Tips for Making Your Dental Implants Last
As great as dental implants are, they'll only do their job if you're able to take care of them. Fortunately, they don't really require any specialized maintenance; simply care for them as you would your natural teeth. Keep the following tips in mind to help them last:
Brush your implants twice every day for two minutes each time, and don't forget to floss—it's just as important as brushing!
Avoid biting into hard objects that could potentially fracture your implants. Things like ice cubes, caramel apples, peanut brittle, and similar objects should be avoided. Sticky or chewy foods can also be problematic.
Visit your dentist biannually for checkups and cleanings; this also gives them the chance to inspect your implants.
Sugary and acidic foods and beverages can also increase the risk of tooth decay that can compromise your dental implants.
Assuming you practice proper oral hygiene, your dental implants shouldn't inhibit your summertime diet whatsoever. Knowing how they function and assist your mouth will go a long way towards helping you preserve them so that you can continue to enjoy all of your favorite foods this season.
About the Author
A native Texan himself, Dr. Zachary Brice proudly serves patients and families in the San Antonio area. Dr. Brice received his dental doctorate from the University of Texas Health Science Center San Antonio Dental School and has taken countless hours of continuing education in a wide range of fields. His practice is pleased to offer many available services including dental implants. If you have any questions about dental implants or would like to schedule a visit, feel free to contact Dr. Brice through his practice's website or by phone: (210) 903-5565.