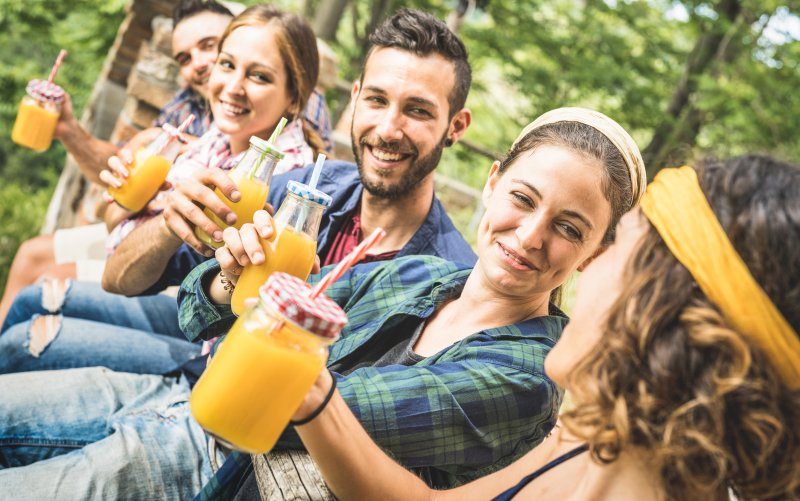 For many people, maintaining a healthy diet is much easier said than done. Between work, school, keeping up with loved ones, and trying to get eight hours of sleep each night, eating healthy may seem like one too many things to keep track of. From time to time, you may see a diet trend on the internet that seems easy enough to follow. Unfortunately, not all of these diets are as good for you as they seem. Read on to learn about three popular diet trends that can harm your oral health and what you should eat instead.
Trend #1: Juice Cleanses
Though fresh fruits and veggies are full of vitamins and minerals, drinking only juice robs your body of the nutrients it needs to keep your smile as healthy as possible. Additionally, natural fruit juice is full of sugar and acid, which means it can damage your tooth enamel and raise your chances of developing cavities.
Trend #2: Raw Food Diets
This diet features only or mostly uncooked and unprocessed foods. Some people believe that this allows their body to take in the nutrients it needs without consuming chemicals and preservatives. Sadly, fresh fruits are high in natural sugar, which can lead to cavities. Seeds are also common on this diet and can get stuck in your gums and between your teeth. This gives oral bacteria more to feed on, which can also raise your chances of decay.
Trend #3: Small Meals
Many celebrities and dieticians claim that the key to maintaining a slim waist is to eat several small meals per day. Though this may benefit other parts of your body, eating small meals is bad news for your oral health. When we eat, the amount of acid in the mouth rises. This means that consuming several extra meals per day exposes the teeth to acid more often than usual. Acid eats away at tooth enamel, which means it raises your likelihood of developing cavities.
Foods To Eat Instead
Though these diets may not be the best for your oral health, there are still tons of foods you can eat that will support a healthy smile, including:
Fiber-rich fruits and vegetables – These help you keep your teeth and gums clean and get saliva flowing. This includes foods like pears, apples, berries, carrots, strawberries, and broccoli.
Dairy products – Cheese, milk, plain yogurt, and other dairy products help remineralize teeth and rebuild enamel.
Lean meats and fish – Chicken, pork, beef, turkey, and fish contain nutrients that help fight plaque and protect tooth enamel. They also allow your body to use calcium more efficiently to maintain strong bones and teeth.
Before you decide to try out a new diet trend, do some research to make sure it won't harm your oral health or other parts of your body. This will let you gain a healthier lifestyle while maintaining a gorgeous smile!
About the Practice
Whether you're a new patient or an existing one, the San Antonio team at Brice Dental is here to help you better care for your pearly whites. Led by Dr. Zachary Brice, they can teach you which foods are best for your teeth and what kinds of diet trends should be avoided for you to maintain a beautiful smile. Call Brice Dental at (210) 903-5565 or visit their website for more information on diet trends that can harm your teeth or to schedule an appointment.