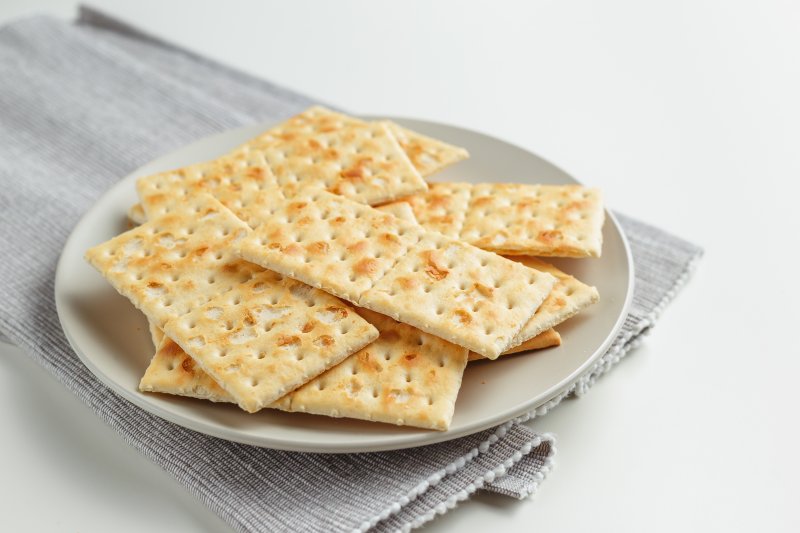 One of the most common dental issues people experience is cavities. It's important to brush and floss every day to keep the bacteria away, as well as to maintain a healthy diet. But did you know some treats can increase your risk of tooth decay? Keep reading from your dentist in San Antonio about three surprising cavity-causing foods you might consider avoiding!
#1: Saltine Crackers
Have you ever enjoyed a warm bowl of soup when you were sick or had a stomachache? You may have even added saltine crackers for the extra energy. While these snacks can help keep you fuller, they can also take a toll on your pearly whites. They contain processed starches and carbohydrates, which can be just as harmful to your tooth enamel as sugars! By crushing saltine crackers into tiny pieces when eating them, you'll cover every crevice in your smile, making it challenging to brush away the particles. If the food matter remains in your mouth for too long, it can allow bacteria to feed and wear down your teeth.
#2: Raisins
Since raisins are dried grapes, they'll provide you with numerous nutritional benefits like other fruits. They contain plenty of vitamins, minerals, and healthy fiber as well as help with digestion, strengthening bones, and boosting iron levels. However, they're also high in sugar content, almost as much as candies or sodas! Plus, raisins are sticky, making them harder to remove from your teeth and increasing the risk of bacteria eating at your enamel.
#3: Alcoholic Drinks
Beverages like beer and red wine consist of starches which can be detrimental to your dental health. But the primary issue with alcoholic drinks is that they dry out your mouth. This can interrupt your saliva production, which is essential for naturally washing away harmful germs. Without a sufficient amount, you can risk bacteria thriving and creating cavities more easily.
With these foods in mind, be sure to rinse your mouth often and stay hydrated. Practice proper dental hygiene and visit your dentist regularly to ensure your smile remains cavity-free!
About the Author
Dr. Zachary Brice earned his dental doctorate from the University of Texas Health Science Center San Antonio Dental School. He also pursues continuing education each year to refine his skills to provide the best quality care for his patients. He offers a wide range of modern and comprehensive treatments, including routine dental checkups and cleanings to help you maintain your best smile. If you'd like to schedule an appointment, feel free to visit our website or call 210-903-5565.