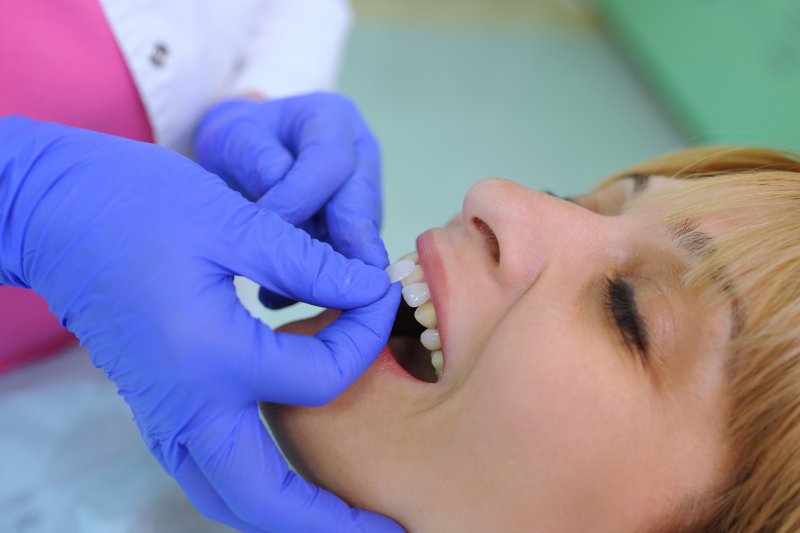 Are you dealing with a wide range of smile flaws? If so, you might want to get porcelain veneers — they could transform your damaged teeth in as little as one visit! That said, there are things you should know about treatment first. After all, veneers are a big investment, and you want to ensure they're right for you. As for the facts in question, your dentist in San Antonio has you covered. Here's what you should know about porcelain veneers before you commit to them.
They're Long-Lasting
While veneers don't last a lifetime, their lifespan is pretty long. In fact, they often work for ten to twelve years on average. They're even known to last for twenty or even thirty years when well-maintained!
This longevity stems from the veneers' high-quality material. In particular, they rely on porcelain that's both resistant to stains and pretty durable. Given these traits, veneers' surfaces are as strong as regular teeth and difficult to chip or crack.
They're Irreversible
Unlike some other dental treatments, veneers are permanent. Your dentist has to remove bits of your enamel to place them, so they can't be removed without harming your oral health.
In light of this fact, you should be sure if you want the procedure. Veneers could give you your dream smile, but they'll change your tooth structure in the process.
They Can Partially or Fully Cover a Tooth
Contrary to what you might've thought, you may not need a veneer to cover an entire tooth. Dentists can often place partial ones that elongate your tooth or correct other issues. Full veneers, meanwhile, are best for covering teeth that are discolored or that have cracks or chips close to the gum line.
The Treating Dentist Matters
When considering porcelain veneers, you'll want to have a qualified dentist perform the treatment. As such, search for one who meets your criteria on education, training, and so on. In particular, focus on finding someone with experience in creating veneers and who has high patient satisfaction. You'll trust this dentist with your money and your smile, so choose wisely.
If you keep the above facts in mind, you'll better understand whether you need veneers. From there, talk to your dentist in San Antonio about possible treatment options.
About the Practice
Brice Dental is a locally-owned dental practice in San Antonio, TX. As led by the titular Dr. Zachary Brice, our office will give you the smile you've always wanted. To that end, we offer preventive, cosmetic, and restorative dental treatments, as well as emergency care. We're also certified providers of both dental sedation and wisdom tooth removals! For more information or to book an appointment, you can reach us on our website or by phone at (210)-903-5565.