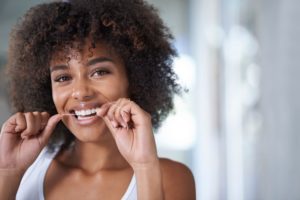 With Halloween right around the corner, you might be worried about whether you'll end up with cavities pretty soon. All of that sugary candy can't be great for your teeth, after all. Even though this month is rife with opportunities for cavity-causing bacteria to wreak havoc on your pearly whites, there are a few simple steps you can take to reduce your risk of tooth decay. Since October happens to be National Dental Hygiene Month, now is the perfect time to learn these five easy tips to keep your smile clean and healthy for the rest of this month and even year-round!
1. Don't Go to Bed Without Brushing Your Teeth
Many people have no problem remembering to freshen their mouth in the morning by brushing their teeth. However, if you get home exhausted after a long day, you might be tempted to fall straight into bed without taking care of your oral hygiene. By not brushing before bed, all of the plaque and bacteria that have accumulated throughout the day don't get cleared away. Not only does this give you awful "morning breath," but it can increase your risk of cavities and gum disease. Spend two full minutes brushing your teeth right before bed – your mouth will thank you in the morning!
2. Use a Fluoride Toothpaste
There are nearly countless varieties of toothpaste to choose from these days, but no matter what, make sure to use one that contains fluoride. When it comes to oral health, fluoride is a vital mineral. It makes your tooth enamel stronger, lowering your chances of getting cavities.
3. Get in the Habit of Flossing Once a Day
Flossing isn't just something to do every now and then when you have a sizeable piece of food stuck in your teeth. It should be a daily habit, as it's the only way to clean out the spaces between your teeth. By removing food debris and plaque buildup in these areas, you become less likely to develop gum disease and tooth decay. Try to add flossing to your nighttime oral hygiene routine.
4. Drink Plenty of Water
Water is undoubtedly the best beverage for your overall health, and especially for your oral health. Most dental professionals recommend drinking water after every meal or snack. It's an easy way to rinse away food particles that might otherwise linger behind and contribute to dental health problems. Plus, it can improve your breath!
5. Visit Your Dentist Twice a Year
Even if you're diligent about brushing and flossing every day and maintaining a mouth-healthy diet, you still need to see your dentist for six-month checkups and cleanings. Not only can they remove the buildup of harmful plaque, but they can also catch oral health issues in their early stages or even prevent them altogether. This saves you from painful dental problems later on while also helping you avoid needing expensive procedures.
These tips can be particularly helpful during National Dental Hygiene Month, but your smile will thank you if you make them habits that last a lifetime!
About the Author
Dr. Zachary Brice is a dentist in San Antonio who completed his dental studies at the University of Texas Health Science Center San Antonio Dental School. At Brice Dental, he prides himself on providing family-friendly dental care in a locally owned office with a homey atmosphere that puts patients of all ages at ease. He's more than happy to give tips on maintaining healthy smiles year-round, and you can get in touch with him by calling (210) 903-5565.