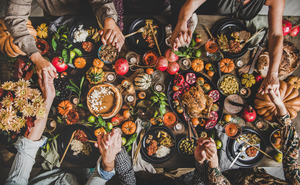 Thanksgiving may be a time to indulge in plenty of delicious food, but you shouldn't neglect your oral health in the meantime. There are several dental hazards to watch out for during the big meal, and being aware of them ahead of time can lower your risk of developing tooth decay or gum disease. Below are 5 tips from your dentist in San Antonio for making sure that your smile enjoys a healthy Thanksgiving.
1. Don't Eat Too Much Sugar
From the marshmallows on top of sweet potatoes to cranberry sauce to pecan pie, it can be all too easy to overload on sugar during the Thanksgiving meal. An excessive amount of sugar can cause the oral bacteria in your mouth to produce harmful acids that attack your tooth enamel, eventually leading to cavities. Protect your smile by keeping your sugar consumption to a minimum.
2. Drink Water Instead of Wine
You probably already know that wine can potentially stain your teeth. Unfortunately, that's not the only way it can affect your grin. Wine is acidic, meaning it can weaken or break down your enamel, leaving it more vulnerable to bacteria attacks. Even worse, the alcohol in wine can dry up the saliva needed to keep your mouth clean. It will be better for your teeth and gums if you stick to water for the Thanksgiving meal.
3. Be Careful Around Sticky Foods
Some sweets such as marshmallows and caramel are very sticky and can stay in your mouth for a long time. As such, they can very easily lead to plaque buildup, which often results in further dental issues. You should try to avoid sticky foods as much as possible, but if you do decide to indulge a little, rinse your mouth with water once you're done eating; this will help wash away leftover food debris before it can cause any problems.
4. Avoid Biting Down on Hard Foods
Does your family snack on chips, nuts, popcorn, and other hard foods before the big meal is ready? Biting down on anything hard can wear down or even break your enamel. And if you're wearing braces, there's a chance that bits of food will get stuck between your teeth. As such, it may be a good idea to carry dental floss with you so that you can remove anything that gets trapped in your smile throughout the day.
5. Stick to Designated Eating Times
When you eat constantly throughout the day, your saliva won't have time to wash away the food debris and bacteria that can cause dental problems. While it might be tempting to snack throughout the day on Thanksgiving, you should try to stick to designated eating times as much as possible.
Planning ahead can make all the difference for your oral health during thanksgiving. Don't forget to schedule a consultation with your dentist if you have any concerns about your smile after your Thanksgiving feast.
About the Author
Dr. Zachary Brice graduated from the University of Texas Health Science Center San Antonio Dental School. His practice, Brice Dental, is a locally-owned and operated dental office dedicated to helping patients protect their smiles from tooth decay and other oral health issues. To schedule a consultation with Dr. Brice before or after Thanksgiving, visit his website or call (210) 903-5565.