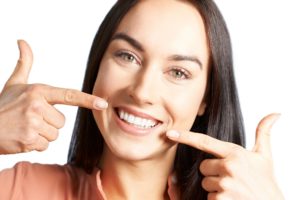 As you head into 2023, you probably have a list of goals you'd like to achieve during the year ahead. You might plan to exercise regularly, eat out less, or save money, but is a healthy smile on your New Year's resolutions list? Your oral and general health are closely connected. You can invest in your overall wellness by committing to 5 New Year's resolutions for healthier teeth and gums.
1. Improve Your Brushing Routine
Your toothbrush is your first line of defense against preventable oral health issues, like cavities and gum disease. The American Dental Association recommends brushing for 2 minutes in the morning and at night. However, many people don't brush long enough or skip brushing before going to bed. It's never too late to revamp your brushing routine. Strive to brush after every meal.
2. Commit to Daily Flossing
Brushing alone can leave 40% of your teeth surfaces uncleaned. Flossing is the only way to remove food particles and plaque missed by your toothbrush. Use high-quality floss to clean between each tooth and around the gum line to remove buildup that can lead to gum disease. At least 50% of adults have the preventable infection, which is a leading cause of tooth loss and can increase your risk of many health issues, like cardiovascular disease. Flossing is a simple way to keep your gums healthy.
3. Cut Back on Sugar
Sugars found in foods and drinks feed cavity-causing bacteria. The more your teeth are exposed to sugar, the greater the risk of decay. With 92% of adults having cavities, cutting back on sugar can safeguard your smile. If you can't resist your sweet tooth, brush your teeth when you've finished. If you can't get to your toothbrush, rinse your mouth with water.
4. Drink More Water
Healthcare professionals recommend drinking eight 8-oz glasses of water daily to stay hydrated, which keeps your mouth moist. A dry mouth is a perfect environment for oral bacteria growth. Drink plenty of water to prevent your mouth from becoming too dry. It will also cleanse your teeth with every sip you take.
5. Visit Your Dentist
Besides caring for your smile at home, the American Dental Association also recommends a cleaning and checkup every 6 months. Routine dental care stops common oral health issues from occurring to preserve your natural smile. Not only will you keep your teeth and gums healthy, but you'll also save money. Every $1 spent on prevention can save up to $50 on restorative treatments.
You can achieve a healthy mouth and body by giving your smile the attention it deserves. A few simple changes will ensure your teeth and gums stay healthy for a lifetime.
About Dr. Zachary Brice
Dr. Brice achieved his dental degree at the University of Texas Health Science Center in San Antonio. He regularly continues his education to provide the most up-to-date services. If you need a cleaning and checkup, request an appointment through our website or call (210) 796-9421.