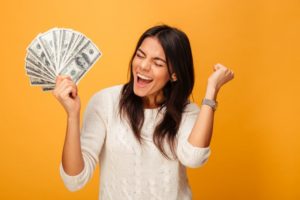 April brings blooming flowers and much-needed spring showers. You can also expect some extra money to pour in since it's Tax Day on the 18th. As you consider what to spend your tax refund on, you should consider the difference it can make for your smile! There are many dental services that are a worthy investment in your oral health. Read on to learn how using your tax refund for your dental health is a wise investment.
Why Should Your Oral Health Be a Top Priority?
While your dental health may seem unconnected to your overall well-being, nothing could be farther from the truth! There has been research to show the link between poor oral health and other health issues, such as oral cancer, heart disease, diabetes, and stroke. Keeping your mouth in top condition directly impacts your entire physical body. For this reason, taking the time—and money—to invest in your dental health not only improves your smile but your overall quality of life.
Managing the Cost of Dental Treatment
Even if you have dental insurance, it can still be tough to manage the extra costs associated with dental treatments, such as the deductible and the fixed amount. It can even make you avoid getting much-needed care just to save a few bucks. However, your tax refund can give you a bit of flexibility and help cover the cost that comes with certain procedures or treatments. Additionally, by investing in your smile now, you may be saving more in the long run if more expensive treatments would be necessary due to not taking care of your dental health now.
How Can You Invest in Your Smile?
If you are considering using your tax refund to give your oral health a boost, here are some common treatments that may be the best option for you:
Routine Preventive Care: Research has shown that for every $1 spent on preventive dental care saves $50 on future restorative or emergency dentistry. By visiting your dentist every six months, your dentist can give you a thorough checkup and cleaning to keep your smile free of plaque and tartar. They can also catch any developing issues before they become more serious.
Professional Teeth Whitening: A bright white smile not only makes you look more youthful but has been proven to boost your social life and career. Professional teeth whitening is an affordable, convenient, and quick way to enhance your teeth.
Tooth-Colored Fillings: If you have a cavity or decayed tooth, it can quickly be repaired with a tooth-colored filling. The composite resin will help protect the tooth from further decay and infection, as well as appear natural-looking for a beautiful smile.
There's no better investment than in your well-being, including your smile! By using your tax refund for dental treatments, you can keep your oral health in top condition for years to come.
About the Author
Dr. Zachary Brice and his team at Brice Dental keep the smiles of San Antonio whole, healthy, and beautiful. He earned his dental degree at the University of Texas Health Science Center San Antonio Dental School and has taken numerous advanced courses to enhance his skills. With the use of advanced dental technology and personalized plans, he offers a full range of services, including preventive, restorative, cosmetic, and emergency care. To schedule an appointment, contact him through his website or call (210) 680-3611.