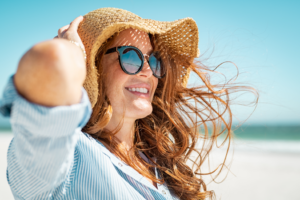 Summer is now in full swing, and with it, warmer weather, poolside fun, family vacations, and all kinds of other enjoyable plans and events. But no matter what's on your and your family's summer itineraries, have you remembered to schedule a preventive dental checkup before kicking things off? Even though this might not sound like the most exciting way to beckon in the season, there are no doubts about these visits being incredibly beneficial. Here's more from your trusted dentist about why you should start your summer off with a dental visit.
1. These Visits Fit Easily into Most Schedules
If you and your family are constantly busy or on the go, it might be tough to pencil in all of your necessary, annual appointments such as dental checkups. But conveniently, summer falls right in the middle of the calendar year, offers a generous break from school and classes, and also includes various holidays like Memorial Day, the Fourth of July, Juneteenth, and so on, meaning that you might find yourself with a little extra downtime and flexibility in your schedule! Plus, an appointment conveniently scheduled during the summer break gives your dentist lots of time to start (and finish) any procedures that might be lengthy or complex in nature.
2. You're Setting Your Smile Up for Lasting Health & Beauty
Your dentist is your greatest ally when it comes to keeping your smile looking and feeling great—you simply cannot do it all on your own, despite your best efforts! They can inspect your mouth and ensure it's totally healthy and free of any threatening issues like decay or cavities. They can also ensure it looks dazzling and bright—which is important, given how many photo opportunities are present throughout the summer! Finally, since summertime is also known for all sorts of frozen sweets and chilled treats, it's also worth going into the season with optimal oral health so you can enjoy these items [in moderation] without fear of exacerbating any dental issues.
3. Dental Emergencies Can Disrupt Your Summer Plans
The very last thing you should want to happen during your summer is to unexpectedly suffer a dental emergency—and these situations often have a knack for occurring when it's incredibly inconvenient! That said, a healthy mouth is far less likely to encounter any serious issues, and visiting your dentist before summer can ensure that there aren't any underlying problems that might worsen. Even something small like a minor cavity has the possibility of worsening into a painful situation that warrants emergency care, so don't put off visiting your dentist beforehand to ensure that things are in tip-top shape. Not to mention, if something were to happen, you'd already have a trusted dentist you can quickly contact!
About the Practice
Dr. Zachary Brice and his team at Brice Dental are thrilled to provide patients and families in San Antonio with an excellent level of dental care! The practice is excited to offer a wide range of preventive, cosmetic, and restorative options that are certain to help you and your loved ones achieve optimal oral health heading into the summer season. If you have any questions about the blog or need to schedule a visit for you or a family member, feel free to contact Dr. Brice through his practice's website or over the phone for further information. Telephone: (210) 680-3611.