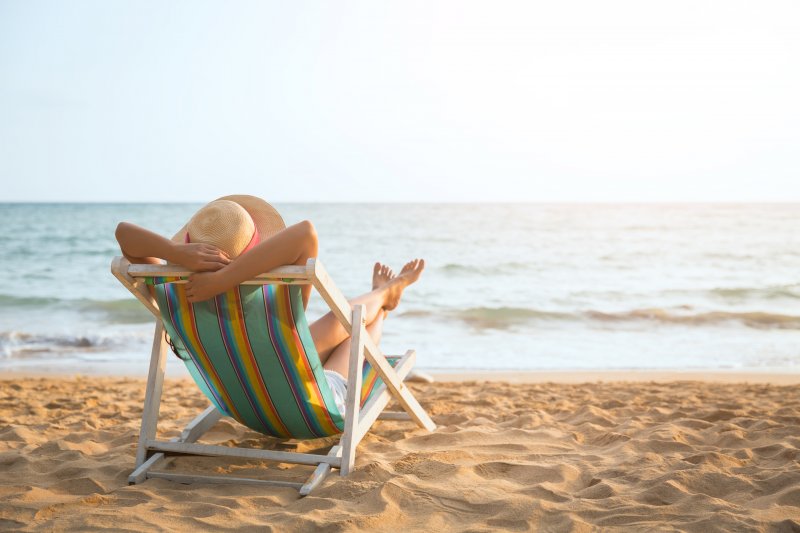 Summer vacation is the perfect time to enjoy much-deserved time off, but prioritizing your oral health keeps the good times coming. It can be easy to neglect proper dental care when you're busy traveling, but a little self-discipline goes a long way! With this in mind, here are five tips for a healthy summer smile!
Keep Up Good Habits
From nights out on the town to trips to faraway places, it's easy to let your daily oral hygiene routine slip through the cracks of the busy summer months. Sticking to your usual routine of brushing twice a day and using mouthwash and floss daily prevents plaque buildup, gum disease, and cavities.
Before you embark on any vacation, make sure you have packed your dental hygiene essentials: toothbrush, toothpaste, floss, and mouthwash. If you are on-the-go, pack travel-sized versions of your hygiene essentials.
Water is Your Best Friend
The summer means plenty of sun and hot weather, so make sure to keep hydrated! Drinking enough water ensures your mouth stays moist and washes away plaque-causing bacteria and food particles. Tap water is even better, as the fluoride helps rebuild and strengthen enamel and prevent tooth decay.
Of course, this doesn't mean you can't enjoy your favorite beverages. When drinking acidic or sugary drinks like alcohol, coffee, tea, juice, or sports drinks, consider using a straw! This reduces contact with your teeth and protects your enamel. Ultimately, if you want to indulge in some of your favorite drinks, rinsing your mouth with water afterwards is a small change you can make with a big impact.
Watch What You Eat
A little indulgence paired with relaxation never hurt anyone. Cold and sugary treats and drinks are perfect to beat the summer heat. It's fine to satisfy your sweet cravings from time to time, but it's best to have them in moderation to avoid tooth decay. That doesn't mean you can't enjoy what you love. Rinsing or alternating with water after can wash away some of the sugar.
Opting for low sugar or sugar-free alternatives can help protect your teeth and satisfy your sweet tooth.
Avoid Popular Dental Care Myths
To maintain healthy teeth, use your best judgment before believing common dental misconceptions and remember:
Flossing is just as important as brushing.
Mouthwash cannot replace brushing your teeth.
Brushing once a day is not enough.
Chewing gum can help rinse food particles from your teeth after meals.
Visit Your Dentist
Before going on vacation, consider scheduling a dental checkup. Your dentist can detect or treat a problem that might worsen while you're away from home. You can also visit after your trip if you're concerned about any oral health changes that have occurred while away.
Making smart oral hygiene decisions can save you time in the long run and help you enjoy your vacation to the fullest.
About the Author
Dr. Zachary Brice and his team at Brice Dental protect the smiles of San Antonio no matter the season. His practice offers a number of services to help you maintain your oral health. If you are interested in learning how you can keep your smile safe this summer, you can reach Dr. Brice through his website or by phone at (210) 680-3611.